Interstate Batteries Honors Our Military With a Special Partnership and Paint Scheme for Coca-Cola 600
22 de mayo de 2023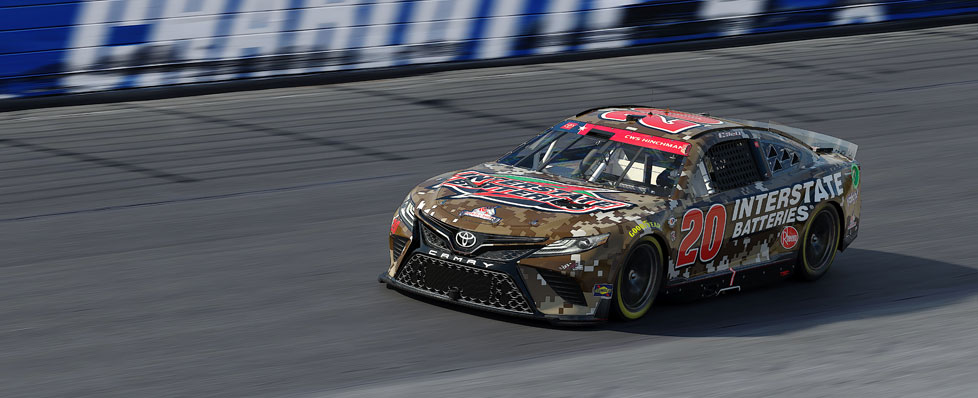 Semper Fi & America's Fund Will Adorn the Hood of Christopher Bell's No. 20 Joe Gibbs Racing Toyota Camry TRD
Interstate Batteries announced today plans to run a special military-themed paint scheme on the No. 20 Joe Gibbs Racing Toyota Camry TRD that Christopher Bell will race during the annual Coca-Cola 600 NASCAR Cup Series race at Charlotte (N.C.) Motor Speedway on Sunday, May 28. Dallas-based Interstate Batteries announced a charitable partnership with Semper Fi & America's Fund earlier this month and will feature the organization as part of the paint scheme.
"The NASCAR community has always been so supportive of our military and such an important part of the Coca-Cola 600 each Memorial Day weekend," Bell said. "It's an honor to be a part of that celebration with Interstate Batteries. We are racers and we always want to win, but a victory in the Coke 600 would definitely mean a lot more if it helps to spread the word about the Semper Fi & America's Fund program and the work they do to help veterans."
Semper Fi & America's Fund (The Fund) is a nonprofit organization that provides critical support to wounded, critically ill and injured veterans and their families. Interstate Batteries – a leading provider of automotive batteries and related products – is raising awareness of and providing financial support for The Fund's transportation program, which supports injured veterans with stipends for vehicle repairs, adaptive vehicle purchases and vehicle modifications.
"At Interstate Batteries, our values include love and a servant's heart," said Lain Hancock, president and CEO of Interstate Batteries. "We are honored to partner with Semper Fi & America's Fund to provide critical transportation assistance to wounded veterans and their families, and to raise awareness of the important work the organization does."
"We are grateful for Interstate Batteries' commitment to help us provide lifetime support to our service members, veterans and military families," said Karen Guenther, founder, president and CEO of Semper Fi & America's Fund. "Transportation is an often-overlooked but essential part of achieving a high quality of independence for combat-wounded, injured or ill service members and veterans."
The average cost to replace an adaptive vehicle ranges from $20,000 to $80,000. With the average lifespan of a vehicle at 12 years, this can have a significant financial burden on veterans. In 2022, The Fund provided $4 million in adaptive vehicle grants for service members and veterans.
In addition to providing financial support, The Fund provides hope, healing and quality of life solutions, working alongside service members and veterans to help them attain and sustain their fullest level of physical, mental, emotional and spiritual health as they return to their communities.
"Being able to relearn how to drive wouldn't have been possible without the assistance from The Fund," said Army veteran Jeremy Haynes. "That independence empowered me to be able to take my son to his first Little League practice. When we got there, I was so moved with emotions. No one has to drive me. I don't have to ask someone."
Interstate Batteries launched a crowdfunding campaign and hopes to help drive awareness for the ongoing needs of military families. Augmenting those efforts is the plan to feature a military-themed paint scheme during the Coca-Cola 600 at Charlotte. Additionally, Interstate Batteries will host a small group of representatives from The Fund in Charlotte during the race weekend, including veterans who have benefitted from The Fund's services.
For more information about Semper Fi & America's Fund and the transportation program, visit TheFund.org.
About Semper Fi & America's Fund
Semper Fi & America's Fund cares for our nation's critically wounded, ill and injured service members, veterans and military families. It was started in 2003 by military spouses who immediately jumped in to provide bedside support to wounded and injured service members returning from Iraq and Afghanistan. Since then, it has provided $300 million in support to more than 30,000 service members. With 18 years of serving military families, it is considered one of the nation's most trusted charities and one of only three veteran nonprofits to receive an A+ rating from Charity Watch. Supporting all branches of the U.S. Armed Forces, Semper Fi & America's Fund provides one-on-one case management, connection and lifetime support. Today. Tomorrow. Together.
Acerca de Interstate Batteries
For more than 70 years, Interstate Batteries® has powered people down roads, trails and waterways and business to succeed. Best known for its starting, lighting and ignition (SLI) batteries, their products have been under car hoods since 1952, each one backed by the company's service, quality and value. Interstate All Battery Center® provides portable power in both retail and commercial markets. Headquartered in Dallas, Texas, Interstate Batteries is an industry leader in recycling efforts, as well as a global leader in safe lead handling practices. Guided by a set of common values, the company's purpose is to glorify God and enrich lives while delivering the most trustworthy source of power to the world. For more information, visit www.interstatebatteries.com.